---
Housing, health, and well-being across the Arctic: Regional, local, and family perspectives
Prof. Riva and Prof. Christopher Fletcher from Université Laval lead this population health intervention research project which brings together Inuit and Western epistemologies (ways of knowing) and methodologies (ways of doing) to assess the impacts of housing conditions on individual, family, and community health and well-being in Nunavut, Nunavik, and Nunatsiavut. This project was developed and is conducted in collaboration with Inuit housing and public health organizations and academic researchers from various disciplines.
---
Housing and Indigenous peoples' health: A knowledge synthesis of research and housing initiatives in support of practice, policy, and advocacy
This knowledge synthesis project will assess the state of the evidence linking housing conditions to health for Indigenous peoples as well as the range of housing interventions implemented in Indigenous communities in Canada and similar countries. This project is lead by Prof. Riva in collaboration with Prof. Christopher Fletcher, Suzanne Bruneau - head of the Aboriginal Health Unit at the Institut national de santé publique du Québec, decision makers from Indigenous public health and housing organizations, and national and international researchers. This project will provide decision makers and communities with information to support and inform decisions on housing and health issues in their regions.
---
Housing, access to health care, education, and employment among First Nations living on- and off-reserve: moving evidence to policy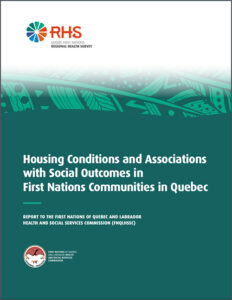 This project conducts policy-amenable research on, and translation of research about, the links between housing conditions and access to health care, education, and employment for First Nations living on reserve in the province of Quebec, and in metropolitan areas across Canada (off-reserve). It also examines indigenous housing policies implemented in Canada and elsewhere, and analyzes them for their applicability in the Montreal census metropolitan area.
Header Photo: Dr. Marie Baron