In a recent paper, authors Karine Perreault, Prof. Mylene Riva, Philippe Dufresne, and Prof. Christopher Fletcher examine the relationship between living in overcrowded conditions and sense of home among nearly 300 Inuit. The paper, "Overcrowding and sense of home in the Canadian Arctic," is published in Housing Studies.
Now, interested readers can explore key results from the paper, along with historical background, in new illustrations published below.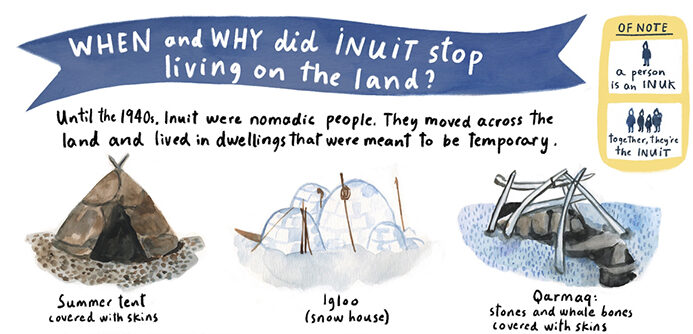 Study Background
According to the 2016 Census, more than half of the population in Nunavut and Nunavik live in overcrowded conditions, compared with 8.5% of the total Canadian population. Overcrowding is associated with many social and health problems experienced by Inuit. In Nunavut and Nunavik, overcrowding also impacts sense of home. This is important, as home can be a foundation on which people develop their identity and sense of belonging to a family or community, as well as a source of safety and stability.
Traditionally, Inuit were nomadic, living in tents in the summer and temporary snow houses in the winter. However, the 20th century saw significant shifts in Inuit lifestyles, leading to the settlement of permanent communities across the Arctic. The illustrations below present a brief historical background on why and how Inuit went from being nomadic to living in permanent and overcrowded houses, as well as important study results.
Methods
To investigate how overcrowded conditions impact sense of home:
The research team visited 12 Inuit communities and met with 289 Inuit adults who agreed to participate in the study.
Participants told researchers about their housing situation and to what extent they feel at home or not, and also reported on their health status.
Responses were put into a database, and researchers analyzed the data.
Based on these interviews, researchers worked to understand sense of home "according to participants' perception of their home in relation to space, identity, control, privacy, satisfaction, relationships, location, and security."
Results
As shown in the images below:
Findings indicate that participants who did NOT live in overcrowded conditions, compared to participants who did, reported stronger sense of home.
This is important because sense of home is, in turn, associated with psychological distress: a stronger sense of home is associated with less psychological distress, and vice versa.
Participants who did not live in overcrowded conditions were also more likely to report having sufficient space for their day-to-day activities, enough privacy, and good family relationships as well as feeling safe and in control of their home environment.
Even though there is no doubt that men and women are affected negatively by overcrowding, the associations observed were stronger in women, suggesting that women may be more seriously affected by overcrowding than men.
Significance
Study findings suggest that reducing overcrowding across the Arctic could have important positive impacts on sense of home and mental health for Inuit families. Authors suggest that efforts to build more houses in conjunction with efforts to foster sense of home may be powerful strategies to consider in discussions around Northern housing policy.
This study is part of a larger project aiming to assess the health and well-being impact of social housing construction in Nunavik and Nunavut, funded by the Canadian Institutes of Health Research and by ArcticNet – a Network of Centres of Excellence of Canada.
To learn more about the study, contact study author, Karine Perreault. To learn more about the project, visit the Facebook page or contact the Principal Investigator, Prof. Mylene Riva.